Description
old skool
"The Second Summer of Love" and "M25 raves"
Dubbed "The Second Summer of Love" in homage to the 1967 "Summer of Love" in San Francisco, the summer of 1989 saw an explosion in ecstasy-fuelled, unlicensed outdoor parties across the UK.
Making the most of the hottest UK summer for 300 years and links to the home counties provided by the new M25 motorway, young people flocked to huge acid house parties organised by established promoters in overgrown fields and abandoned warehouses in the countryside.
These were not simply small-scale raves; they were sophisticated events with professional sound-systems and state-of-the-art lighting.
Initially, the police took a relatively lenient approach when confronted with these parties, but the tide began to turn when journalists from The Suninfiltrated a rave at a disused aircraft hanger in Berkshire, which was attended by 11,000 people.
The next day, this "drug crazy acid party" was front-page news, sparking moral outrage amongst many people in Britain, who demanded an immediate crackdown and heavier policing.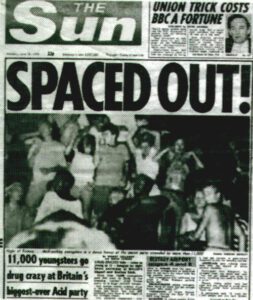 In 1990, the UK Government passed the Entertainment (increased Penalties) Act, allowing fines of up to £20,000 for hosting illegal raves or parties.
Organisers got around this law however by keeping the location of events secret until the very last minute. Ravers would gather at service stations and wait for details to be broadcast on pirate radio stations or on the voicemail of a secret "party line" phone number.House music already important in the 1980s dance club scene, eventually penetrated the UK .Clubs like the The Empire, Angel's, Monroe's ,Bass box,  Zone , Eclipse and many more
This Old Skool  T-Shirt is available in a wide range of colours and sizes.
T-Shirt Features:
This Old Skool Original T-Shirt. With a unique Silver Overlay Effect for stricking effect in nightclub's, Technics 1200 Twin Turntables and the words Old Skool Original .
Seamless 2,2cm collar
Taped neck and shoulders
Twin needle sleeve and bottom hems
Quarter-turned to eliminate centre crease
It is exclusive to Mr Art and can only be purchased from this website.
Features a crew neck and short sleeves.